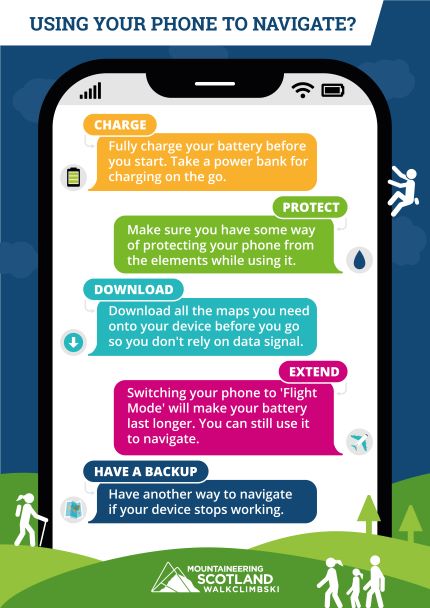 In 2022, as part of our work with the Mountain Safety Group, we surveyed over 4,000 hill walkers to ask if they used mobile phone or GPS for navigating in the hills and what, if any, issues they had with using them.
87% of people responding said that they have used a phone or GPS for navigating at some point during their walks. Of those, over 40% said that they had experienced a situation where it had stopped working in some way.
It's clear that smartphones are increasingly being used as a tool for navigation in the mountains, however it is important to be aware that whatever system you are using for navigation, whether it is a mobile phone, GPS device or paper map and compass, the key to navigating successfully is being able to read and understand a map and how it relates to your surroundings, keeping track of your location and being able to find your way from point to point along a safe route.
Learn more about navigation skills
Here are some things to think about when using your phone in the mountains:
CHARGE – make sure you start with 100% battery charge and charge your phone while you travel if you're using it for music or road navigation.
PROTECT – keep your phone in a waterproof case to protect it from the elements, even if it's rated as waterproof, and keep it close to your body when not in use to keep it warm, dry and help battery life.
DOWNLOAD – download all the maps you might need so you don't need to rely on mobile data to be able to access maps while you're on the hill. Include maps of the surrounding areas in case you need to change your route, and use a topographic map (eg OS or Harvey Maps) – not all digital maps are suitable for hiking in the hills! If you are planning to follow a route downloaded from an app or website, it's worth checking with other reliable sources of information to make sure it's safe and suitable for your level of experience and ability.
EXTEND - Switching your phone to 'Flight Mode' stops it talking to the outside world and makes your battery last a lot longer. The GPS will still work, so you can still navigate. Taking a 'Power Bank' and an appropriate cable to link your phone to it, will give you the option to re-charge on the go – this might not work in very wet conditions though!
TAKE A BACKUP - No system is 100% fail safe, so having a separate system to navigate with if the phone or GPS were to fail is a must, for example a map and compass, and a good level of skill to be able to use them. If your phone isn't working and you can't use it to navigate, it also means you can't use it to phone for help either! Having a simple backup phone in the first aid kit with actual buttons and a battery that will last for 6 months switched off is something to consider too.