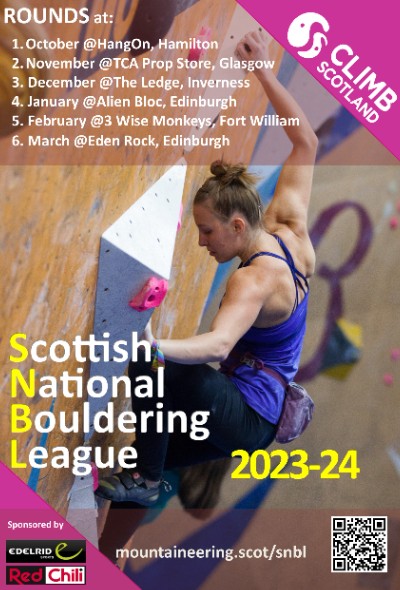 The Scottish National Bouldering League (SNBL) is an accessible series of competitions for junior to veteran climbers, which takes place at bouldering venues across Scotland each winter.
ClimbScotland organises and coordinates SNBL in partnership with member climbing walls of the Scottish Climbing Wall Network.

The league is all about seeing who is the best climber over a series of six rounds on different bouldering walls and different styles at the best walls across Scotland.
SNBL uses one of the rounds from each hosting wall's scheduled winter bouldering events and combines them into a league. This year we will be starting off in November 2023 and there will be a round each month after that with the final round in April 2024. Scoring after each round will be ranked. The best four scores by a competitor out of a possible six will be used to decide the final placings and the 'Scottish Bouldering Champions'.
Competitors pay their normal entry to the walls to take part in the competition, and having their scores logged as part of SNBL is free.
Sponsored by Edelrid and Red Chili

Para Open (16+)
Junior (16-17)
Senior (18-44)
Veterans (45-59)
Super Vets (60+)
NB: eligibility for all categories and all rounds are based on the age at R1 (Oct 28th 2023)

We will be running a Para Open category in the SNBL again this year. In keeping with the current competition format, Paraclimbers will climb the problems relevant to their age and gender at each of the rounds. The only difference is that their scores will be in calculated in a single Para Open Category.
Please note, there are no tailored problems or requirements for host walls to set tailored problems for this category. It is also at the climbers own judgement if the problem is suitable and safe for them to attempt.
We are keen to hear any ideas or feedback on this category. Please feel free to contact us at:
info@climbscotland.net
To enter the league simply attend the SNBL round at the host walls and indicate when you take part that you wish to be entered into the SNBL. There is no additional cost. The final scores and prizes will be given out after Round 6.
Because each climbing wall offers a different kind of competition and uses a different scoring system, we rank the individual round winners in the different categories and the ranked scores are totalled to find the winner after all rounds have been completed. Ranked scores will be posted on the Competitions Results and reports page and notified through the ClimbScotland Facebook page after each round, so competitors can keep track of their potential placings.
2022-2023 Results
Round 1
Round 2
Round 3
Round 4
Round 5
Round 6
Appeals
– if you feel your score is incorrect, please make an appeal by contacting
Kevin Howett