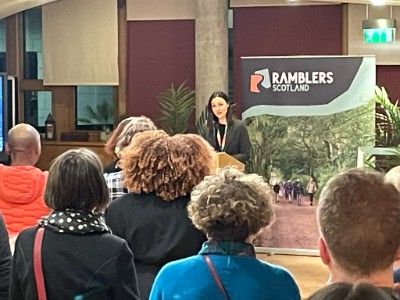 Our CEO Stuart Younie started off 2023 with our three-yearly development audit, carried out by KPMG on behalf of sportscotland. Considerable work went onto collating the necessary paperwork in late December in advance of the audit, which takes a detailed look across all of the organisation's activities including governance, financial management, policies and procedures, IT, risk and planning and reporting. We now wait on a draft report which will set out any recommended areas where we can make improvements and hopefully highlight some areas of good practice.
Stuart also set up an initial planning session with the senior team to take some time to reflect on our challenges and achievements in 2022, and look at the priorities for the year ahead, which will form the basis of an updated operational plan. Following changes to the Mountain Safety and ClimbScotland teams in 2022, there are some big projects taking place 2023, including the launch of our new path campaign, a review of Respecting Scotland's Mountains and updates to our communications and membership strategies.
Stuart, Davie Black and our new Director for Access and the Environment, Pete Crane, also attended a parliamentary reception on the 18th of January, which was hosted by Ramblers Scotland to celebrate the 20-year anniversary of the Land Reform (Scotland) 2003. For those in attendance, it was a rare opportunity to catch up face to face and network with colleagues from across the outdoor sector having been largely restricted to online video calls over the few years.
Later in the month, we held a meeting to start detailed planning for our new path campaign, working in partnership with the Outdoor AccessTrust for Scotland, with the generous support of the Scottish MountaineeringTrust Diamond Grant, which we were awarded last year. Named 'It's Up to Us', the campaign will launch in the spring, and we have also been liaising with the BMC about how we can link with the work they are carrying out through their Mend our Mountains initiative, which has very similar objectives.