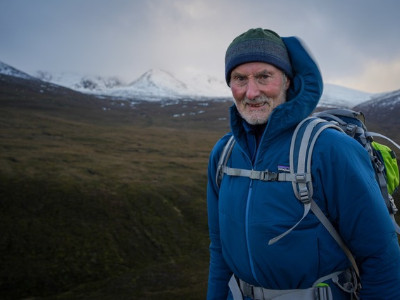 Scottish environmental campaigner Dave Morris has been announced as the thirteenth recipient of the Scottish Award for Excellence in Mountain Culture, sponsored by JAHAMA Highland Estates.
Nominated by the public and his peers as a mountain hero who celebrates achievement, accomplishment and the spirit of adventure, Dave joins previous winners including Colin Prior, Andy Nisbet, Dr Adam Watson, Jimmy Marshall, Myrtle Simpson, Ian Sykes, and Dr Hamish MacInnes in the Excellence in Mountain Culture Hall of Fame.
The announcement is made as part of The Fort WilliamMountain Festival.
Dave Morris has devoted most of his life to protecting and promoting access to the wild landscapes of Scotland. From the Lurchers Gully enquiry in the 1980s to his hugely influential role in the campaign for access in Scotland prior to the publication of the Land Reform (Scotland) Act 2003, he has been a stalwart figurehead environmental campaigner.
As a director of Ramblers Scotland for many years he made great use of the media to persuade politicians, landowners and the general public to see the enormous benefit our wild landscapes give us. On his retirement from this post in 2014, well known outdoor writer Cameron McNeish (winner of Scottish Award for Excellence in Mountain Culture 2018) described Dave Morris as the "closest thing we have to a John Muir figure …, a wild-country champion who could lift up the eyes of an uncaring public and show them that in wildness lies the hope of the world."
JAHAMA Highland Estates' Chief Operating Officer, Julia Stoddart said: "We are delighted once again to show our support for the Festival by sponsoring the Award for Excellence in Mountain Culture and congratulate this year's winner Dave Morris, an outstanding recipient.
"A tireless campaigner for public access rights and for the environment, Dave is a seminal figure in the Scottish outdoor access world, and it is right that his dedication and commitment are recognised through the award. JAHAMA Highland Estates is an inspiring landscape that attracts access-takers of all kinds, and we fully support the right to responsible access as enshrined in the Scottish Outdoor Access Code (SOAC), which owes so much to Dave's work.
"The benefits of SOAC to the public have never been clearer than during the pandemic. Outdoor exercise has taken a central role in many people's wellbeing during the past year, and JAHAMA continues to work with local stakeholders to ensure that recreation forms a key part of 'building back better' from Covid-19."
Dave Morris also represented the interests of Scotland on a world stage as the President of the Mountain Protection Commission of the International Climbing and Mountaineering Federation (UIAA) for eight years.
He is a lifelong climber, skier and hillwalker, and has been a particular source of inspiration in the last few years, having battled throat cancer. Now breathing through a small hole in his throat, Dave has defiantly managed to climb to 20,000ft in the Himalayas, ski mountaineer in Alaska and climb alpine rock routes in Norway.

Stuart Younie CEO of Mountaineering Scotland said: "I remember clearly when Dave came to deliver a guest lecture to our student year when I was an undergraduate at Moray House in the early '90s and his passion and enthusiasm was an inspiration to us all. He was one of the key figures responsible for securing the access rights we all enjoy today and he continues to be an influential voice on environmental and conservation issues. Few can match his many achievements and this award is thoroughly deserved."
Photo by Dave MacLeod