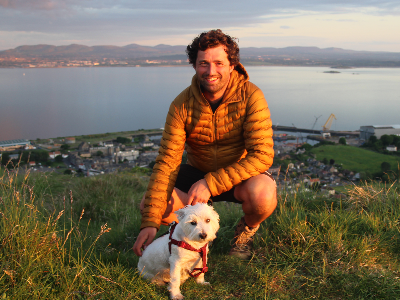 To help us mark Mental Health Awareness Week 2022, hillwalker and mental health campaigner Ross Cunningham has kindly shared this blogpost explaining how climbing the Munros helped him through severe depression and how being among the hills can help us all maintain or regain our mental wellbeing.
A mountain can represent many things but to me it is a symbol of calm, strength and immovability. No matter what comes a mountain's way it will always stand tall. We all want to be the mountain by remaining strong and resilient in the face of adversity.
But we can take striving to be the mountain too far sometimes - I know I did. I lived most of my life not wanting to talk about my feelings or crying for fear that others would think I was weak.
I went through a period of severe depression in 2017. It was something I had never gone through before or since but I felt like I was drowning and that I didn't want to be here anymore.
I cried during that period every day for several weeks. I would be at work and would walk out to my car and drive to the other side of the car park so colleagues couldn't see me and just sit and cry. The tears would gush out of me like a river in spate.
I would then wipe the tears away and walk back into work as if nothing was wrong and as if I wasn't falling apart inside. You really don't know what someone can be going through.
Looking back on that period I still can't believe I was able to do that.
My anxiety was extremely high - it put me on edge constantly, I wasn't able to sleep properly and I didn't want to eat anything at all, leading to me losing weight.
I felt so detached from the world around me and I couldn't see a way to end the pain I was going through. I felt completely hopeless.
But two important things happened that eventually led to my recovery from depression:
1) The first was taking up hillwalking.
My colleague at the time, Megan, knew I was going through something and managed to talk me into going with her Munro bagging one weekend in Perthshire.
We did Beinn Ghlas and Ben Lawers that day and although I don't remember very much about it (I think in part due to brain fog caused by the depression) for whatever reason I wanted to go hillwalking again the following weekend.
I decided to do Ben Chonzie but because Megan wasn't free I took my wee westie, Dex, with me for company. We made it to the top and the next weekend getting up a hill was all I wanted to do. Four and a half years later and I'm now just 22 Munros away from compleating after averaging over a Munro a week since heading up Ben Lawers with Megan that afternoon in 2017.
Getting up the Munros was so beneficial in helping me with what I was going through at that time. I wasn't able to watch a film or read a book but the single focus of walking up a mountain was something I could switch my mind to doing. There were a couple of times my anxiety would get the better of me and I would walk back down a hill after going halfway up, but I would then do the same hill the following weekend when I felt a little better to prove to myself I could do it.
The endorphins released from exercise helped me feel a bit happier and calmer. There's also something special about standing on top of a mountain looking out on a grand landscape that can really help to put my thoughts into perspective. Sometimes our worries can seem so big, but on a mountain top you feel very small in comparison.
2) The other important action that I took was to open up about how much I was struggling.
That included speaking to my friends, family, and my boss at work about what I was going through. My parents were great, as was my best friend Andrew and Megan, and others who let me confide in them.
I then spoke to a therapist and probably the most important part of that experience was being able to understand why I was feeling what I was feeling and to learn more about depression and anxiety.
Speaking to others and learning more about depression made me feel less alone in what I was going through.
In many ways depression was like a mountain for me. I once found myself at the bottom looking up thinking I would never be able to overcome it.
But after a lot of struggle I found my own route up to the summit and looking back I'm so grateful that I kept going. In many ways the mountains saved me, but so did opening up to other people about what I was going through.
If you're struggling with your mental health, don't bottle it up. We're not mountains, we're human beings.
-
In 2020 I launched a website called Mountains Mend Minds to promote the mental health benefits of hillwalking and for others who were in a similar situation to me to share their stories to hopefully inspire others. If you would like to write a guest blog for my website please email me at https://mountainsmendminds.com/contact-us/.
If you're struggling with your mental health remember you are not alone and if there's no one you feel you can talk to in your life please consider phoning Samaritans on 116 123 (lines are open 24/7 and calls are free), or emailing them at jo@samaritans.org if that's easier.