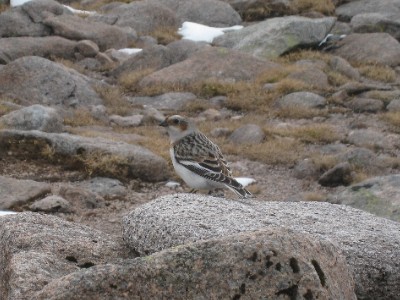 With Mountaineering Scotland's Access & Conservation Officer Davie Black
You may think that after the glorious purple haze of heather bloom has gone, and you have sampled the last of the Blaeberries, nature has closed up until spring, but from late September through until December, the autumn season can still offer delights for anyone interested in the wildlife of the mountains.
Birdlife
Much of the birdlife of the uplands will have moved away, either migrating to warmer lands in the south or to the more temperate conditions in the lowlands or around the coast, where intertidal mudflats offer abundant food. However, a year-round resident in the mountains is the Ptarmigan, which may be easier to spot at this time of year as its plumage moults from a cryptic summer camouflage against rock and heather, to the white of lying snow.
An autumn visitor who stays over the winter is the Snow Bunting, migrating from its summer breeding grounds in the high arctic to the relatively benign climate of the Scottish mountains in winter. There are a few who stay the spring and summer and breed high in the corries and cliffs, but their numbers are increased in autumn as they flock together and scour the vegetation for seeds and insects.
Image: Snow Bunting on Ben McDui (Credit: Neil Reid)