Mountaineering Scotland 2023 AGM and Members Gathering
Saturday 18th November 2023, 9:31am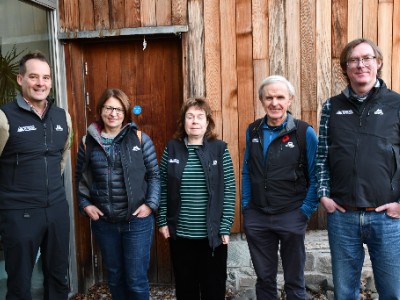 New Directors were confirmed for ClimbScotland and Mountain Safety. Stuart said: "Thanks also to our outgoing Director for ClimbScotland, Lucy Fraser, and Nigel Clark, outgoing Director for Mountain Safety, for the huge contribution they have both made to the organisation during their time on the Board. We are delighted to welcome Hugo Allan, who will take over from Lucy and Brendan Hughes, who will take over from Nigel."
Two Honorary Memberships were also awarded to Dave Gordon, for services to Access, Conservation and the Environment, and Scott Forsyth, for services to ClimbScotland and competition climbing.
After a short break, we heard from Mountaineering Scotland's Access & Conservation Officer, Davie Black, whose Access & Environment updates included the new Manifesto for the Mountains – an update to 2016's Respecting Scotland's Mountains – as well as ongoing issues such as the Shared Rural Network (SRN).
Mountaineering Scotland's CEO, Stuart Younie, also gave an update on It's Up to Us, our joint campaign with the Outdoor Access Trust for Scotland to save upland mountain paths.
Members then enjoyed talks from our three key speakers: Retired Planner and SMC Huts Convener, Bob Reid, Mike Daniels of the John Muir Trust, and Director for the Centre of Mountain Studies at UHI, Dr Ros Bryce. A short panel followed with members having the chance to ask the three speakers and Access & Conservation Officer, Davie Black, a number of questions.