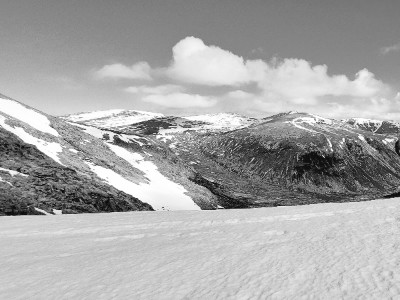 I had planned a bike and hike out of Linn of Dee, to take in Beinn Bhrotain and Monadh Mòr before returning via Glen Geusachan.
It was a stunning day, and I was enjoying my first proper hill walk in a couple of years since our youngest was born. As I descended from Beinn Bhrotain into the bealach before pulling back up the other side towards Monadh Mòr, I could see that the top of the descent route into Glen Geusachan was pretty packed with snow and ice, and I immediately thought I'd have to return over Beinn Bhrotain as I wasn't equipped to deal with that.
When I returned after summiting Monadh Mòr, I had a closer look at the descent path and thought I could see away across the snow/ice to a walkable route. I wanted to try Geusachan as the views of Beinn Bhrotain and Devils Point are supposed to be excellent. I regretted my decision as soon as I started!
I couldn't get back up to the top of the track so I had to try and descend. I quickly lost my footing and slid down the ice, about 50-60ft into some rocks, where I flipped, rolled and bumped another distance before I came to a halt.
I was so lucky not to brake a bone and crack my head as it's a pretty lonely part of the Cairngorms. Lesson learned for me; trust your gut, never overestimate your ability and never underestimate the conditions.